https://youtu.be/Sxg9tBaQvTE On 7th April, Wednesday 2021 at 4.00 pm in the JBC Auditorium, DVK Administrative Centre, Sr. Josmy Jose, FMA successfully defended her thesis on
Formation to Interreligious Dialogue: A Theological Approach in Forming the Adolescents to create a Culture of Dialogue.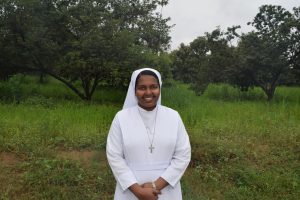 Dr. Josmy Jose Ezharamattathil FMA is a Daughter of Mary Help of Christians (Salesian Sisters of St. John Bosco) from the Sacred Heart Province of Bengaluru. She made her first profession in 2004 and the final commitment in 2010. She joined DVK for doctorate after she had completed her Licentiate in Catechesis and Youth Pastoral from the Pontifical Faculty of Educational Sciences, "Auxilium," Rome. She is already assigned to the same Institute in Rome to be a Faculty in the Catechetical Department. In 2021, she obtained her doctorate in Systematic Theology, with the thesis titled "FORMATION TO INTERRELIGIOUS DIALOGUE. A Theological Approach in Forming the Adolescents to Create a Culture of Dialogue" from the Pontifical Athenaeum of Philosophy, Theology and Canon Law, Dharmaram Vidya Kshetram (DVK), Bengaluru.
She bears traits of her experiences of working for formation of the teachers of Catechesis and Moral Education just as she was also animating the adolescent volunteers belonging to various religions in the school and colleges of South India. She has authored various popular and scientific articles in Journals including Asian Horizons from DVK and co-compiled three books: 1) Vocation Ministry in the Catholic Church; 2) Faith, Discernment and Vocation – Challenges to Youth Ministry Today and 3) Formation towards Psychosexual and Celibate Integration. Manual for Formees – Novitiate Vol.3.
Sr. Josmy Jose has offered us an encyclopedic presentation on Interreligious Dialogue which is at the same time sharply theological and eminently pastoral. It is a systematic reflection based on field-work in about ten village communities near Bengaluru following the participatory observation method, in which experience is dialoguing with current scholarly research and reflection, both in India and abroad, rooted in historical tradition, but reaffirmed by the Second Vatican Council. Sr. Josmy is also focusing specially on forming people for dialogue outlined by Pope Francis in his encyclical Fratelli Tutti, showing at the same time that it has been reflected upon by the more famous theologians in the universal Church and practiced for nearly a century in the Asian churches. I am happy to congratulate Sr. Josmy Jose for her excellent and scholarly research and clear presentation and recommend it warmly to anyone interested in understanding more clearly and practicing more effectively interreligious dialogue in Asia and elsewhere.
(Dr. Michael Amaladoss,S.J.
Institute of Dialogue with Cultures and Religions,
Chennai)
As the world has become a global village, people belonging to other religious traditions are increasingly becoming our next door neighbours.  Acquaintance with and training in interreligious dialogue can contribute greatly for living in peace and harmony in such contexts.  And the earlier the training begins the better as the young people of today will be the architects of tomorrow's society.  In this book Dr. Josmy presents many effective steps for training young people for a culture of dialogue and the theological basis for doing that. This meets an urgent need and is indeed a very valuable contribution to the field of interreligious dialogue.
Dr. Jose Kuttianimattathil, SDB
Kristu Jyoti College, Bengaluru
I congratulate Dr. Josmy for this priceless and exquisite study on interreligious dialogue and through her solid and creative researches she could produce for our Church and society a Sourcebook – a textbook, to know everything concerned the Interreligious Dialogue. I hope and pray that these contributions in the area of interreligous dialogue. I hope and pray that these contributions in the area of interreligous dialogue will bring more and more people to the culture of dialogue, harmony and fellowship.
Dr. Anto Amarnad, CMI
Pontifical Athenaeum, DVK, Bengaluru