They reached the eternal shores
During the 21 years of life of our Province, eight of our sisters have run their course and reached their goal. The first among them was:
SR. MARIA ZONTA F.M.A Born on 23-12-1911. Professed on 6 -8- 1932 Died on 14-10-1994
An Italian by birth, Sr. Maria Zonta arrived in India as a missionary on 16 December 1936. From 1936-38, she was the Assistant of the poor little boys of Little Flower Orphanage Pallikonda a small village in North Arcot District, Tamil Nadu. From 1938-`47 Sr. Zonta worked in our centres at Guwahati, Tezpur, Mawlai, Jowai and Saharampur teaching the poor village girls needle work. In 1947 she returned to Pallikonda where she worked for 26 years taking care of the little boys of the orphanage. She also visited the villages around without minding the scorching sun of North Arcot, rendering medical services to the villagers. From 1966-`72 she was the animator of the community. In 1972 her health broke down and she was transferred to Sacred Heart Convent, Bangalore where she remained till her last day on 14 October 1994. Her presence was a source of inspiration to the novices who also belonged to the same community.
A generous heart for the poor, gentleness, concern and love for the community members and great precision and perfection in all her activities characterized her life as a missionary. No one ever heard an uncharitable or complaining word escape from her lips. Her gratitude knew no bounds even for a small help or favour done to her. She was easy to please and accepted willingly the suffering caused by age and ailments. A halo of simplicity and goodness of heart glowed around her. Thank you dear Sr. Zonta for your 56 years of valiant missionary life the fruits of which you will surely be enjoying in heaven now.
Sr. GINCCI THOMAS F.M.A 10.7.1969 – 21.10.2008
Like St. Alphonsa and St. Teresa of Lisieux, Sr. Gincci had a call within her call: to suffer. Suffer she did, with the courage of a lion for eleven long years facing nine surgeries, each followed by courses of chemotherapy and radiation.
Sr. Gincci was the fifth child after four boys born to Mr. Thomas Mathenkunnel and Mrs. Anna Thomas at Kalthotty in Idukki district. The parents treasured her as the apple of their eyes. They infused into her human and Christian values especially deep faith and trust in God. From the love and affection that enveloped her at home, she learnt to share it with all those who came in contact with her.
On 24 May 1997, Sr. Gincci made her first profession. She was a good religious, kind and compassionate to all. Just five months after her profession, she was diagnosed as having the killer disease. There she began her painful journey with her Crucified Lord. Sr. Gincci loved life, she wanted to do her utmost for God`s kingdom working for poor, abandoned children. But the mission the Lord wanted her to fulfill was to suffer. She drank to the very dregs the cup of suffering Jesus offered her, cheerfully, without any complaint. Even in the midst of her sufferings, she made herself available to the community and its mission with a generosity that edified every one. Once she confided to her Provincial: "I know that I will not live long. My time is running short and my only thought is: what more I can do for my sisters and these children. With urgency she learnt Kannada and began teaching the school children at Hassan. She taught them dances for the School Day celebration and took care of the boarders lovingly.
After edifying everyone who approached her by her ever ready smile, serenity and peace, Sr. Gincci bade us farewell promising that in heaven she would pray for every one since she could not do as much as she wanted while on earth.
SR. ROSAMMA THONIPPARA F.M.A 28.7.1945 – 17.11.2008
"An F.M.A who knew to love and to be loved" – thus may be summarized the life and mission of Sr. Rosamma Thonippara.
Born as the fifth child of Chandy and Mariam at Thiruvambady in Kozhikode district, Rosamma would have inherited from them the adventurous and enterprising spirit of the early settlers in Malabar. She had a very happy childhood and was very much loved by every one. Her parents instilled in her Gospel values especially the spirit of prayer and devotion to Our Lady. She was a brilliant student and maintained good academic record especially in Mathematics. She was a model to her siblings at home as well as to her classmates in the school.
She did not hesitate to respond to the call of God and was professed as F.M.A on 5 August 1968. She rendered service as Teacher, Assistant, Boarding Mistress and Headmistress in some of our schools in Tamil Nadu and Mumbai; as the Animator of the communities at Kottiyam, Kunnamangalam, Kattappana, Provincial house Bangalore and Angamaly. She was also the Provincial Councillor during 1993-1999 and again from 2005-2008. She was intelligent, responsible, dynamic, systematic, precise and very hard working.
Joy was her characteristic trait. As an educator she was loved by her students for her compassionate heart. As an animator, she won the heart of her sisters and guided them with love and affection. She was ready to help anyone in need, especially the poor and the needy. Sr. Rosamma made her own the Preventive System and endeared herself to all those who approached her through her winning ways.
Her unexpected and untimely demise plunged our province into a sea of sorrow. It was a heavy blow to the Province and an irreparable loss. She leaves behind a void in the hearts of all those who had lived with her. May she enjoy eternal reward for her indefatigable work on earth.
SR. ANNA ABRAHAM THEKKUMKATTIL F.M.A 15.4.1924 – 15.09.2009
She came from the lush green valley of Arakulam, nestling in the lap of the high rising mountains of Idukki district. The winding Thodupuzha river and the distant water falls added to its beauty and splendour. The hard working, adventure loving settlers from Kottayam district converted it into coconut and rubber plantations. Courage, hard work, endurance, honesty, above all abiding faith and trust in God and sacrificing spirit characterized these brave men and women. Their children inherited these sterling qualities. Sr. Anna Abraham Thekkumkattil is a typical example of that generation.
Professed on 06.01.1949 as an F.M.A, she greened the land wherever she was sent. Katpadi, Kottiyam, Guntur, Nandigama, Khammam, Warangal, Vazhichal and Avalahalli Bangalore, bear witness to her indefatigable work and sacrifices. At Katpadi, besides turning the marshy, thorny land into fertile rice fields and coconut groves, she was in charge of catering for the community and for the resident students for many years. In the scorching sun she would stand for hours on end guiding the workers. When Bangalore province was born, Sr. Anna was ever ready to go to the new foundations and put up with the inconveniences of the pioneering work. Her enduring capacity was extraordinary.
Sr. Anna was loving and affectionate, caring and concerned about every sister in the community. She was very respectful and affectionate towards the Superiors and readily fulfilled their wishes. Spirit of faith and prayer which she had inherited from her deeply Christian family was nourished by her life of sacrifice and availability.
Gradually worn out by age and work she had to withdraw from hard work and devote herself more to prayer and rest. Kottiyam saw her twilight years, but Kunnamangalam was fortunate to receive her last breath. Her mortal remains rest in Bangalore near the missionaries who had lived with her in her youthful years.
SR. SHYBY TERESA CHIRAYATH F.M.A 07.12.1969 – 22.05.2010
"Like a weaver you have rolled up my life; you cut me off from the loom"- said Sr. Shyby quoting Is.38, when the doctors told her that they could do nothing more for her. The expert oncologists of Lakeshore hospital, the Ayurvedic and Homeo doctors in Ernakulam and Kochi, stood helpless as the galloping carcinoma snatched away this young, intelligent, creative, enterprising sister. She was assigned to Nirmal Jyothi Technical Institute, Bangalore as its Principal, after securing the I rank in M.Sc. Electronic Media from Auxilium college, Vellore. She had big dreams for her students and for the Province. But "man proposes, God disposes".
Sr. Shyby was born into a devout Christian family in Ernakulam District, Kerala on 07.12.1969. With a cheerful disposition she was a ray of sunshine amidst her siblings. But sorrow struck the family with the illness and death of her beloved father. Her mother too contracted the deadly disease and had to undergo frequent treatment.
Sr. Shyby was professed as F.M.A on 24 May 1993. Sociable and friendly, jovial and lively, Sr. Shyby was a person whose company every one enjoyed. After teaching at Kunnamangalam from …….to………. she was sent to Shillong to do her intensive juniorate. At our newly started centre at Vaduvanchal she set up a computer centre to offer employable qualification to the poor girls of the district. With great love for the Congregation she spotted and nurtured the call of God among her students. She braved the adventures that are part and parcel of a pioneering community in a remote area on the mountains. Though Sr. Shyby was privately preparing herself for higher qualification in computer science, she was asked to do her post graduate course in Electronic Media at Auxilium college, Vellore. Within a year of her joining the Nirmal Jyothi Technical Institute, she was diagnosed with cancer. No expert medical help and fervent prayers from everywhere could stop the inevitable: she succumbed to the disease on 22 May 2010. It was indeed very hard to accept this painful blow.
Sr. Shyby left us all too soon. But her sunny smile, loving ways and self sacrificing spirit hover over us as we remember her in our prayers for the repose of her soul.
SR. NANCY PEREIRA F.M.A 14.8.1923 – 14 .7.2010
"An indefatigable entrepreneur in the cause of helping the poor"- St. Pope John Paul II defined her thus, during a private audience Sr. Nancy had with him on 13 May 1998 in the presence of our Superior General Mother Antonia Colombo.
"My vocation is to be with the poor and serve them"- Sr. Nancy used to say and stay she did in the slums of Vyasarpadi and Bangalore and many other places uplifting them from poverty, illiteracy and ill health.
To synthesise the life and mission of this 'one in a thousand' personality in a few lines would be an impossible task. To describe the achievements of 'FIDES' her brain child alone would take volumes.
An epitome of love for the poor, of sacrifice and prayerfulness, hard work and inventiveness; a person of innumerable talents, abilities and rare qualities; someone who could put her hand to anything successfully; a meticulous planner, an able builder, a talented artist, a good organizer, above all an exemplary religious- Sr. Nancy was all this and more.
Nancy was the fifth child of Mr. Marian Pereira a successful business man and a leader in his Parish, and Agnes a gentle and loving house wife and mother. Nancy inherited the best of qualities of both the parents. She was the first Keralite to join the FMA institute. It was Mother Cesira Gallina the fourth Provincial of the Salesian sisters in India who spotted her sterling qualities. She entrusted her with the heavy task of constructing the majestic Auxilium college arts block, the large hostel edifice and the present Sacred Heart Home. Later she was sent to construct various buildings at St. Mary`s convent Vellore, at Kodambakkam, Tiruppattur, Pallikonda and Polur. She was also appointed the Animator of Mazzarello Home Tiruppattur, of Little flower convent Pallikonda and of Beatitudes Vyasarpadi.
It was at Vyasarpadi that she plunged headlong into social work. She organized and trained 250 slum girls and with their help, conducted self-improvement and self-employment programmes for about 8000 women of the slum. The foreigners who visited Vyasarpadi were amazed at Sr. Nancy`s work in the slum. It was some of them who visited later her FIDES project at the M.V.Garden colony- the suburban slum in Bangalore and in the 11 villages around, who gave wide publicity to her work in Europe. FIDES -the Family Integral Development Education Scheme- Sr. Nancy`s brain child, aimed at the holistic growth of a human being from the womb to the tomb.
The decade 1995-2005 was the golden era of FIDES. Sr. Nancy and the FIDES shot into fame and publicity in Italy and other European countries with the telecast of her work for the poor on RAI TV, with her biography written by an Italian journalist and scores of articles published in various newspapers and journals. She was named the "New Mother Teresa of Calcutta", the "Sister Banker", the "Lady in Career". Accolades were heaped on her; 'The Golden Apple Award' presented by the Marisa Bellisario Foundation for lady entrepreneurs involved in humanitarian work, and the 'Mandir for Peace' Award were the outstanding ones among the 12 international awards conferred on her. Thousands of poor children were sponsored for their education. Today they are well-placed in society earning a good income. Hundreds of women were helped to become self-supportive with her micro-credit scheme, income generating projects and self- employment methods. Families were liberated from debts; drunken husbands were redeemed from alcoholism through de-addiction processes. Some of them were enabled to construct their own houses; others enlarged or improved the existing ones. Now, the M.V Garden and the adopted villages have altogether a different look. Sr. Nancy`s capacity for planning and implementation was marvelous.
In spite of becoming a person of international repute, name and fame, Sr. Nancy remained the same simple, humble, prayerful nun who lived the common life with her community members, participating in all the community activities and spending a lot of night time in prayer. She was not a philanthropist, but a true disciple of Christ and of Don Bosco and Mother Mazzarello whose spirit and charism she followed with scrupulous fidelity. She formed in her lay collaborators and in the beneficiaries values of God`s kingdom through daily morning prayer sessions, 'good morning talks`, periodical seminars, workshops and retreat days.
Worn out by age and untiring work, she breathed her last on 14 July 2010. As her mortal remains were laid out, an unceasing flow of beneficiaries came to pay their homage; crowds attended the funeral and prayed for the repose of her soul. Sr. Nancy has become invisible…but she lives in the hearts and homes of thousands of poor people whom she had liberated from illiteracy, ignorance and poverty and lifted up to a life of dignity.
SR. MERCY ITTOOP MENACHERRY F.M.A.23.07.1952 – 7 .10.2010
Born as the youngest of six children into the illustrious Menacherry family, Mercy had a happy childhood enjoying the tender loving care of her beloved parents, brothers and sisters. The family passed on to her their rich religious traditions and deep piety. Her eldest sister is a Franciscan Clarist nun. Mercy loved Our Blessed Mother very much and prayed many rosaries from her younger days. She responded to the call of God at a very early age and came to Fatima Matriculation School as a pre-aspirant in……. After completing her high school education, she went through the formation period and made her first profession on 05.08.1974. She had a year of practical experience at Mary Immaculate convent Tiruppattur. Then she was sent to Auxilium college to complete her studies. She passed B.Com degree with high grades and joined Loyola College, Chennai for M.Com degree. She came out in flying colours . She returned to her Alma Mater Auxilium College as lecturer in Commerce in June 1985.
Being very lively, cheerful and full of jokes and innocent pranks, she was a joyful note in the community and contributed to its good spirit. She was exceptionally respectful towards her teachers some of whom were now her colleagues, and to the sisters elder to her in the community. Gifted with practical and theoretical intelligence and always ready to make any sacrifice, it was a pleasure to work with her. One could entrust her with any responsibility which she would carry out with promptness and thoroughness. She was very much loved by her students and colleagues.
When the Province of Banaglore was formed, along with five other sisters from the college, she too took voluntary retirement and joined the new province. She was appointed the Animator of Kottiyam community, then of Vazhichal and Kattappana. Each of these houses that she passed through, saw growth, expansion and development. From 1999-2005 she was a member of the Provincial Council. She was made the Provincial Bursar in 2005. With great enthusiasm and dynamism she worked hard along with the Provincial for the growth of the province. The beautiful provincial house annexe and several buildings at various centres sprang into existence during her term of office. The project 'Italia Solidale' implemented in those years brought great benefit to many poor people. She travelled the length and breadth of the province guiding constructions and attended international meetings of Italia Solidale in Europe and Latin America.
In the midst of her hectic activity, in August 2010, like a bolt from the blue came the shocking news of her sickness: Pancreatic cancer! She underwent the surgery but the doctors had no good news to offer us…. Sr. Mercy loved life and hoped against hope for a cure. The whole province stormed heavens, and tried one treatment after another. On 7th October 2010, on the feast of the Holy Rosary, she bade goodbye to this world plunging all of us and her beloved family members into a sea of sorrow. Sr. Mercy was very much devoted to the rosary right from her childhood. So Our Blessed Mother came to take her on that day.
To this day the shock of her sudden sickness and death continues to grieve us…It was a sorrow too deep for words.
SR. RITA THOMAS. F.M.A 12.10.1929 – 03.01.2013
Brisk in gait with a sunny smile, warm and affectionate, Sr. Rita Thomas was a much loved teacher in all the FMA schools where she worked in various capacities. Her compassionate love for the orphans in St. Mary`s Vellore and for the children at risk at Palluruthy is known to all. Her heart melted at seeing human misery and she did all that she could to alleviate it.
Sr. Rita Thomas was born on 12 October 1931 as the 6th child into an exceptionally large family of 17 children. Her mother passed away at the birth of the 10th child and her father had to marry again and was blessed with 7 more children. Sr. Rita writes: "Though we were many children (of two mothers), we grew up with much affection and understanding as if we were one mother`s children. My step mother was a very loving woman who loved us and sacrificed herself for us".
The parents brought up the children in love of God and neighbor so that including Rita four daughters became nuns: three Carmelites and Sr. Rita an F.M.A. One of her brothers became a Jesuit priest. With so many religious in the family, Rita was confused about the choice of the Congregation. She was guided by a dream. Sr. Rita narrates:" I saw the statue of our Blessed Mother with a beautiful crown and Baby Jesus in her hand. I saw also a sister with uncovered neck. It struck me because earlier I had seen only sisters fully covered except their face". When she came to St. Mary`s Vellore she recognized the statue of Mary Help of Christians she had seen in her dream and the sister who welcomed her- Sr. Consiglia Tarricone as the one she had seen in the dream.
During her novitiate she was gripped with a paralyzing fear of the possibility of not being admitted to profession. Again in a dream she saw Don Bosco who smiled at her, called out to her and gave her a blessing. From that moment, all her fears vanished.
Sr. Rita made her profession on 24 May 1953. From Sr. Consiglia Tarricone she acquired a deep and sincere love for the poor and the orphans and also the conviction of the importance of Salesian assistance at the cost of personal sacrifice. Sr. Rita rendered valuable service as Teacher in many of our schools, as Assistant to boarders , orphans and children at risk and as local Councilor and Animator of Kottiyam community for a term.
From 2007 her memory began to fail. In November 2010 she had a fall after which she was not able to walk as she was losing balance. In 2011, her health deteriorated further and in the last few months Sr. Rita underwent intense physical pain which she endured with much serenity and abandonment to God`s will. On 3 January 2013, at 9.25 p.m., she breathed her last while the community was praying around her.
A very loving nature full of affection, attention and concern for her community members, motherly love and care for orphaned children and great compassion for the poor were the outstanding characteristics of Sr. Rita.       
Sr. MASCARENHAS EDITTA F.M.A 28.02.1920

 – 08.10.2014
First Profession: at Yercaud, Madras on 06.01.1946
Perpetual Profession: at Vellore, Madras on 05.08.1952
Edith Romona Muriel as she was called was the second of nine children born to Mr. Roque Mascarenhas and Annie Tellis on 28th February, 1920. Fear of God and trust in His love has been the hallmark of the Mascarenhas family.   Recalling her younger days Muriel would say that she tasted simple joys at home, being together at prayer, at meals, going for shopping or going to Church services. 
            Muriel came to know of Salesian Sisters through some literature sent by their cousins who were studying at Don Bosco, Bombay. She entered the novitiate at Polur. Soon after profession Sr. Edith was sent to the provincial house, Broadway as a helper in the school office concentrating more on the accounts. She remained in this office for twelve years from 1946 – 1957. Sr. Edith, rendered her service as Headmistress, Economer, Animator.
From 1967 – 1970 she dedicated herself completely as the Provincial Economer at St. Francis Xavier's convent, Broadway. It was during this time she was asked by the superiors to look for a place in Bangalore, for the novitiate.  She cheerfully accepted the pioneering sacrifices involved in the purchase of the land in Bangalore and in the construction of the novitiate – the first building in the state of Karnataka.
             From June to October 1970 she was at Casa Generalizia, Rome helping in the house. Her capacity for management of financial matters led the superiors to appoint her as the Provincial Economer. In 1970, she was sent to U.S.A. on 2 years' assignment given by the Province. While she was there, she was responsible to find benefactors for Madras province. In 1980, she had the opportunity to visit Germany and Italy.
               In July 1987 she was welcomed to the Novitiate, Bangalore for health reasons. Sr. Edith remained as part of the same community when INK Bangalore Province was born in 1993. There in the spiritual ambient of the novitiate she would willingly participate in the courses conducted there. The Novitiate was gradually developed into the Provincial House, the Sacred Heart Convent, Bangalore. She remained there till the end of her life.
              When Sacred Heart Province was carved out from Madras province in 1993, Sr. Edith stayed back in our Province exploiting her sharp intelligence and power of persuasion in solving issues connected with the land and constructions. The province had entrusted her with the propaganda work which she did with great love and dedication till the end of her life. From her room sitting on the wheel chair she wrote hundreds of letters to the benefactors and well-wishers, helping the province as much as she could.  She spent her time in continuous prayer, for all those who approached her with the request of prayers. She assured it and the next time, may be even after months of gap when meeting the individual, she would ask about it, so to say she had not forgotten to pray for the intention requested. She had a prodigious memory till the end. Anyone who visited her could understand that her life was ebbing away, fading into the sunset. She had become very thin and did not have strength even to raise her hands or say aloud anything.
             On the 8th October she sat out on the verandah almost the whole day basking in the sun and talking to everyone who visited her at different times. Little did the sisters know that the Rosary she prayed that day at 4.30 p.m. along with Sr. Mary Manjil and Sr. Celine Maria Selvam would be the last Rosary she would pray in this world!
                The saga of a life lived in selfless love, sacrifice and commitment concluded on 8th October 2014, at 6.30 p.m. After praying the rosary with the community members, our dearest Sr. Edith winged her way to heaven quietly and peacefully.
              Dear Sr. Edith, you were a woman of persevering prayer, had tender devotion to our Blessed Mother praying the Rosary as you moved from place to place. Sisters of our province fondly remember your loving concern for young sisters in communities. You were kind and frank in correcting, austere in your daily living, orderly and precise in your work, punctual wherever duty called. Your gentle and guiding ways, appreciation and encouraging words have boosted many sisters. You were truly a loving elder sister to our province. "I will sing of the mercies of the Lord forever, I will sing the mercies of the Lord" was the song dear to your heart, which you will continue to sing in the heavenly abode."
SR. Vembenikal Aneena F.M.A ( Missionary in Thailand) . Died – 03.12.2015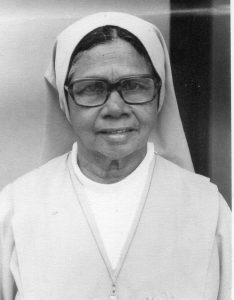 Sr. THEKKETHALA Mathew Mercy F.M.A. 19.08.1960 – 16.04.2016
First Profession: at Sacred Heart Convent Bangalore on 24.05.1983
Perpetual Profession: a Casa Generalizia Roma on 08.09.1990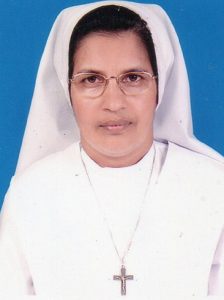 Sr. Mercy Mathew was born on 19.8.1960 at Parappukkara. Mercy was baptized on 25-8-1960 at St. John's Church, Parappukkara. She was brought up in a middle-class agricultural family at Parappukkara.  She was the third child with the pet name "Maggy". Her parents, Mathew and Elia of Thekkethala family who were blessed with six children of whom two were chosen by the Lord to follow Him closely in religious life, Mercy to be a Daughter of Mary Help of Christians and Joseph, her younger brother to be a Diocesan priest. 
She was enthusiastic in athletic and cultural competitions in both school and parish levels.  She was healthy.  Her hair was long and beautiful.  She loved her parents.  She was physically and mentally smart.  She had a disciplined way of doing all matters in life. She respected elders and was affectionate and kind to youngsters.  She was sincere and hardworking. Her family was proud of her.
After SSLC she joined for Type-writing and Short-hand courses at "Our Commercial Institute ", Nandikkara.  Her technical expertness helped her to pass State Level Higher Certificate in typewriting within two years.  It was an all-time record of that institution. Thereafter, within a few days she was selected to Salesian sisters of Don Bosco congregation by the initiative of Rev. sister Lily Puliyani.   She joined as aspirant at Auxilium Convent Katpadi.
She made her first profession on 24th May 1983 at Sacred Heart Convent, Bangalore. Sr. Mercy served as the Sacristan, teacher, helper in the Provincial Office and Headmistress of the Private school in the different communities of Chennai Province.
From 1989 – 1991 Sr. Mercy was in Rome to do the two years Spirituality Course. During that period, she made her Perpetual Vows in 1990 in Rome. After her return from Rome, till the division of the Chennai Province she was the Headmistress of the Private school in Arni and assistant of the contact period candidates. From 1993 – 1995 Sr. Mercy was made Assistant of the Novices in the new born Province of Bangalore. Sister Mercy was entrusted with the responsibility as Headmistress in different school and as Animator of the community at Kunnamangalam.
From 2012 to 2016, till she was diagnosed of having cancer Sr. Mercy taught in the D. Ed College (Diploma in Education) at Angamaly studying at the same time for Doctorate so that she could take up the responsibility in the B. Ed College (Bachelor of Education) in the same Institution.
To accept the sudden discovery of her sickness was not that easy for Sr. Mercy as well as for all of us in the Province and her dear ones. She prayed and made a special spiritual retreat before taking the decision to undergo the surgery, which was to remove her right eye in order to save her from greater risk. In fact, together with Sr. Mercy, every sister of all the communities, all the children of all our schools and boarding's of the Province and her family members went through a time of intense prayer.
With great concern of the doctors clubbed with the prayers of the entire province and her dear ones an operation which lasted eleven hours was done to remove the affected part. At the end her right eye had to be removed and the treatment continued. Radiation and chemotherapy had been administered. By and by her pain increased.  At a certain moment she seemed to be on the way to recovery.  Sr. Mercy herself was very optimistic about her cure and desired greatly to complete her Ph D. Few days before her death when Sr. Mercy Abraham her companion and now the community animator visited her in her room Sr. Mercy told her that she was feeling better and wanted permission to carry on her studies. The permission was granted and the community as per her wishes brought to her room all her study material. The sisters thought at least the interest in her studies would make her get over the thought of sickness.
Though the operation was successful and all external signs gave hope of healing, two days before her death, Sr. Mercy had to be admitted in the hospital, as her blood count was low. We were really edified and inspired by her acceptance of suffering, pain and discomfort with such calmness, serenity and hope for a complete recovery. This did not last long, just in three days she was down with fever and that brought her to her end.
In the days of her illness she was positive and hopeful of a cure. Amidst all her excruciating pain not a word of complaint escaped from her lips. All those who were around Sr. Mercy at the time of her illness were really edified and inspired by her acceptance of suffering, pain and discomfort with such calmness, serenity mingled with hope for a complete recovery.
Sr. Mercy was truly an Angel sent by God, as a messenger of sincere joy. She radiated joy wherever she went. With childlike simplicity of the Gospel she lived her life which truly won many hearts. She did ordinary things of life in an extraordinary manner thus proving to be an authentic daughter of Don Bosco and St. Mary Domenica Mazzarello. Sr. Mercy lived a very simple and ordinary life, but what made the difference are her simple ways and her hard-working spirit in all that was entrusted to her. She would go to the end of her work with great responsibility and perfection.
Dear Sr. Mercy, we do believe that the angels accompanied you to the throne of God. In the Jubilee year of Mercy, she seemed to be the privileged one of the Merciful Father to be carried to His throne of Mercy.   May she experience His close presence as a reward for her life of commitment lived with faith, love and constant prayer!
Sr. KALLIDUKKIL ROSE F.M.A. 31.5.1932 – 24.08.2016

First Profession: at Katpadi Madras on 05.08.1961
Perpetual Profession: a Katpadi Madras on 08.09.1964
Sr. Rose Kallidukkil hails from a simple yet fervent and good Catholic family at Thudanganad in Thodupuzha (in the present Idukki district). She was the second child of Mr. K. V Joseph and K.V Anna born on 31st July, 1932. She had nine siblings, seven brothers and two sisters.  Of these seven brothers two were religious and the last one a priest who died three months after the death of Sr. Rose.
Rose had a very happy childhood. Her grandmother took care of the children and she was everything for the children. It was the grandmother who paid attention to their faith formation. Rose remembered with nostalgia the care taken by the grandmother, who led her and her cousins to confessions and for the Holy Mass on Saturdays after her first communion. Even as a little girl she was sociable among the children of her own age and was fond of playing with her friends in the school.
She responded to serve the Lord as a Salesians Sisters having received a sign to join them. She prayed that if the Salesian sisters would bring the novitiate down to the plain that would be a sign for her to join them. God who had His plans for Rose answered her prayer – the Salesian sisters' novitiate was shifted to Katpadi in the plains.
Rose made her first profession on 5th August 1961 at Katpadi by giving herself to the Lord to serve the poor needy children through whatever help she could within the circle of religious vows. Rose was a jack of many trades. She acquired many skills and made full use of them in her apostolate among the young. Everything entrusted to her was fulfilled with great interest, all for the love for God and for the young entrusted to her care. She served in various houses such as Katpadi, Arni, Vellore, Kodambakkam, Thanjavoor and Kottiyam.  In 1978 Sr. Rose was send to Bangalore Carmalaram to do 10 months spirituality course. There she became sick and so discontinued her studies and was brought to Kottiyam convent. She suffered from heart problem, hyper tension etc. Sr. Rose carried her cross of ill health from the year 1979 to 2016 August 24th, till she went into the embrace of her Lord and master. She did not travel alone, but with Jesus by her side to the end of her life fulfilling the command of Jesus "Take up your cross and follow me".
It was evident that from 1995 Sr. Rose began to lose her memory. Noticing this she was taken for the treatment. No improvement was noticed and gradually it got worsened.
The community of Kottiyam took great care of her. Situation became worse from 2013 and home nurses were kept together with nurse sisters to attend to all her needs. Soon it was noticed that she completely lost her memory, she could not recognize persons.
In 2015 she began to lose even her sight. Towards the end when her condition became worse the medical care given in the hospital too was not of any help. She was brought back from the hospital and the sisters took care of her lovingly and with greater attention.   From that day onwards Sr. Rose was confined to her bed with severe pain.
By the middle of August, it was found that Sr. Rose was struggling to breathe and the feeding that was given to her was choking her. She was rushed to Holy Cross Hospital, into the ICU.  On 23rd the condition of Sr. Rose was in a critical situation. The community rushed to the Hospital and standing around her bed we prayed for her that the Lord, Our Blessed Mother and the angels of heaven be with her and be her strength at the last moments of her earthly life. Sisters in tears kissed her forehead which alone was warm and signed her with sign of the cross which Sr. Rose made on and off even when she was no more conscious of anything or anyone.  
On 24 August 2016, day dedicated to Mary Help of Christians, the community had just finished the Holy Mass after praying much for Sr. Rose that the holy will of God may be done on her behalf. After mass the blessing of Mary Help of Christians was given by Rev. Fr. Wilson the Rector of Don Bosco, Kampivila. As he was getting ready to go with the sisters to the hospital to impart the blessing of Mary Help of Christians to Sr. Rose the call came from the hospital to reach there immediately as Sr. Rose was sinking. Within three minutes the priest and the sisters were at her bed side but she had already taken her flight to heaven.
God in His boundy bestowed on Sr. Kallidukkil Rose 84 years of life of which she spent 56 years serving the Lord in joy as a Salesian sister of Don Bosco. Till late nineties she moved about helping out in the community with dedication and love though certain times she showed the symptoms of her illness though in mild form. Submitting her entire self to the Holy Will of God, Sr. Rose lived and sanctified herself through physical and moral sufferings. Having purified from every stain of sin here on earth, she was found fit to be with Jesus, Mary and Joseph whom she invoked even when she was no more capable of sane actions or words. May she enjoy the bliss of heaven in the Salesian Garden with Don Bosco whose system of spirituality she lived as a Salesian religious.
Sr. GEORGE JOLLY F.M.A.  17-12-1958 – 16-11-2016
First Profession: at Sacred Heart Convent Bangalore on 24-05-1986
Perpetual  Profession: at Kochi, Palluruthy on 04.08.1992
Sr. Jolly George was born on 17 December 1958 as the first child of Mr. V.J. George Vadakkettonnil of Plassanal village of Kottayam District and Cicily Thomas Vadakkemuriyil of Poovarany village of Kottayam District, Kerala. The loving parents called this most treasured child as Molly. She belonged to a well-to-do, ancient and deeply pious Catholic family. She was baptized on 21st December, 1958 in the Sacred Heart Church, Poovarany. She received Jesus for the first time into her heart on 25th June 1965. From childhood she was very smart and this was manifested even in her prayer life and studies. The mother always guided the prayers at home. For Jolly the mother was more like a friend, at times  she would address the mother as though she was her little sister; the mother too fathomed the great love that Jolly  had for her and enjoyed the various manifestations of it.
Jolly was very straight forward in her conversations. She said things with courage on the face of the person. One of her characteristics was to speak the truth always and this she expected from all her sisters. Jolly joined the formation as an aspirant at Katpadi on 12th July 1982. She made the first profession on 24th May1986 at Bangalore.  Her apostolic life started in Polur, North Arcot. She held various responsibilities such as; catering, linenarian, teacher, assistant of the children of the Prathiyasha Bhavan, Economer, Provincial Administrator, Animator.
The principal conviction that helped her to live her commitment in the area of personal integration was the thought that she was called and chosen for a mission and that she was precious to Him who called her. She in her personal note says that she made constant efforts to practice the virtues of patience, kindness and gentleness. She loved the virtues of sincerity and humility, sincerity was an outstanding trait that was very visible in her life from childhood till the end of her life. Sr. Jolly's special programmes for the mission entrusted to her care were: 1. To be a person of prayer.  2. To be fearless, courageous and assertive when and where needed and to make a happy contented and committed FMA community where she was.
She lived with the motto "to love and to serve"- which was very conspicuous in the life led by Sr. Jolly. She herself attested that she had a special devotion to Jesus crucified, to St. Joseph and Mother Mary. Later on, Sr. Jolly shared with someone that it was Our Lady through a dream directed her to Salesian Sisters. 
In the years 2014– 2016 she was once again the Economer of the house at Thiruthiparambu. Her heart grew weaker in spite of the medical care all along. After three years of treatment by expert doctors, their verdict came: "only a heart-transplantation could save her". Sr. Jolly had to wait till the suitable donor was available. As the date approached the whole province along with her dear ones stormed the heavens for the success of the major operation. The Lord heard the prayers, the transplantation was done on September 15th, and the new heart functioned well, raising every one's hope sky-high. 
She was very co-operative to the doctor's advice and tried to do all she could to abide by their advice. On the day of discharge, she was asked to say a few words of experience, she prepared herself and with her joviality thanked everyone and told them "You have worked as a team, and now I am enjoying the fruit of it. I will pray for all of you". Till the second visit to the hospital everything was fine. She thanked all for the prayers offered for her.
On the next day her mother came to meet her and she was very happy and contented. By evening she had a mild temperature and she was taken to the hospital, an attack of Pneumonia plunged us into depths of anxiety and this was two months after the successful operation. She became very sick and it was diagnosed as pneumonia in its very serious form. Sr. Jolly had no expression of anxiety and without any lamentation she remained. Notification was given to all the sisters and her dear ones about her serious condition as per the instructions of the doctors.
Nearing the end, when her parents were in the hospital, her father said "My daughter as a little girl had suffered pneumonia and later again she contracted it. Now at the end of her life it has taken hold of her and she is too weak to resist it." Though Sr. Jolly had been with us and lived among us as a very lively and joyful sister, no one ever heard about this fact. She never manifested her own pain and suffering from which she would have suffered for long.
With fervent prayers hour after hour, we hoped against hope, to wrench from the clutches of death our dear Sr. Jolly, but God`s will was otherwise. She committed her soul to the creator on 16th November 2016.
The short life of Sr.Jolly can be summarized as: A fervent and generous religious, dedicated totally to God and the welfare of the sisters and poor young people. She had very strong faith, ardent in prayer, she was humble, joyous, and hardworking totally detached from self and always attentive to the needs of others. She was joyful all through her life. Her generous availability and cheerful self-giving in a joyful spirit were her characteristic traits.
On leaving us we hear Sr. Jolly telling us "the moment of my departure has come. I have fought the good fight, I have finished the race, I have kept the faith. Now there is laid up for me the crown of righteousness with which the Lord, the just judge, will reward me on that day" (2 Tim 4: 7-8a)  "Now I await the trumpet of God, I will hear the voice of the archangel who will call out the command and Lord Himself will come down from heaven to take me to His eternal abode" (1 Thes 4:16).
Sr. GANGARAPU Arogya Jyothi, F.M.A. 21-06-1977 – 01-05-2017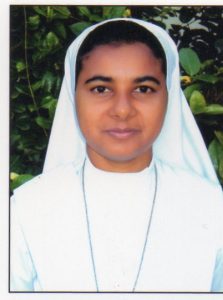 First Profession: at Sacred Heart Convent Bangalore on 23-05-2003
Perpetual  Profession: at Nandigama, Andhra Pradesh on 12.05.2009
Jyothi, the last daughter of to Mr. Gangarapu Joji and Showramma was born on 21 June, 1977 in Chirraguduru village of Suryapat District in the state of Andhra Pradesh. Jyothi has two elder brothers Antony and Marriah and an elder sister Fathima. Jyothi was baptized a month later on 21 July 1977
As a young girl Jyothi was an active member in the parish daily going for mass and helping the parish priest and the sisters. Her presence was a delight and she would make everyone active and energetic. Even after becoming a sister she had been very much attached to her family and dear ones. She was very much attached to her father, and mother, when her father passed away she felt his lose very much.
Jyothi's vocation grew and matured from her home circle. Her grandmother's advices and her priest uncle's encouragement and his close follow up helped her to choose the religious life in the Salesian Sisters' Institute.
          When she passed her X class in 1994. The first time Jyothi was brought to Mahendra Hills it was Sr. Fernandez Philomena who received her. Later she was sent to Chandur, another community of the Salesian sisters, where Jyothi was a contact period candidate and on completion of it she was sent to Maria Nivas, Nandigama to do her Pre Degree Course.  As a candidate she strengthened her devotion to St. Joseph. Having heard from the sisters about Don Bosco she began to have a special devotion to him. She would make sure that there was a calendar of Don Bosco in her family. In 1996 she began her religious journey as an aspirant in Bangalore.
In the sketch of her own autobiographical short account she related that she had certain desperate circumstances to go through during her formation period. It was Sr. George Mary who helped her to go ahead in her vocation.
From Sr. Jyothi's own words we notice that she was very much appreciative of her superiors who helped her in her spiritual journey and who were kind and supported her. When Sr. Jyothi wrote her own short account she had 8 years of religious life. Within the span of these 8 years she had taken up a good number of activities pertaining to the community life and apostolic mission and fulfilled them with joy and enthusiasm.  Various activities in which she involved by then were: she had been responsible for catering, in charge of boarding, women's developing center, Economer, in charge of hostel. Besides these she whole heartedly involved in the parish activities and in teaching catechism in parishes and schools attached to her communities.
 As social worker at Bala Vikasa, she showed great dedication.  She was eager in forming groups and following them meticulously.  She would be on look out to make use of the opportunities for the development of the women. 
 Sr. Jyothi's Departure for home
Sr. Jyothi's last community was Auxilium Seva Bhavan at Warangal and she was the Economer of the house. Due to certain reasons she felt difficult to continue her religious life there and went home. She had left the congregation and the family was not in good terms with the sisters. In fact the family members were very angry and upset. They had taken her by force from the convent. She had not received dispensation from the Church and hence she was still an FMA.
Sr. Jyothi's tragic death on 1st May 2017
Hardly a few months passed after her departure from the convent when death came knocking at her door quite unexpectedly. It was a shock both for the Salesian sisters as well as for the family members. She had a tragic death on the main road, in front of her house on 1st May 2017. Early in the morning she was returning from their mango grove with her niece.  As she and her niece who was riding, were waiting to cross the road to go to their house, a car came from behind and hit the bike on which they were and knocked them down. Sr. Jyothi died on the spot and the niece was very badly wounded. On hearing the sad news of her death everyone exclaimed "Our Lady to whom she was very devoted, wanted her to remain as her daughter and so she took her away from this world." 
Sr. Theakkunkatil Annakutty was the animator of our house in Secunderabad when this tragedy occurred. Since that community was closer to the house of Jyothi than any of our other communities and knowing the family members personally, she took the lead to approach the family and do the needful. She with great prudence and sisterly concern succeeded to ease the tension and get everyone reconciled as she met the family members and the uncle priest Rev. Fr. Bala while doing everything possible for the funeral of Sr. Jyothi.  Sr. Annakutty with her wisdom, daring spirit and common sense handled the situation very wisely. She arranged everything, seeing to every detail and hence the funeral went on very smoothly with no ill feeling but deep gratitude and love that emanated from the hearts of the family members. She alone had the courage to manage the painful situation and face the members of the family with charity and forgiveness. 
The funeral was on the 3rd of May. Many sisters from the various houses attended the funeral and the family members were very pleased and grateful. Indeed 'death is a great leveler'
Sr. Jyothi is buried in her parish cemetery near her father's graveyard in Bongiri. On the 11th day the sisters arranged a holy mass and prayer in the cemetery. Sisters prepared the meals and it was served to all in her parish. The family particularly her uncle Fr. Bala Gangarapu was very grateful to the sisters and seemed to have repented for all the sufferings he caused to the sisters earlier in connection with the convent chapel in Secunderabad, which is used as a parish for all the services in that locality. Indeed God's ways are inscrutable and so different from that of ours! He writes straight on crooked lines says the proverb.
Sr. Niravathu Gracy Mathai, F.M.A. 25.07.1965 – 22. 09.2018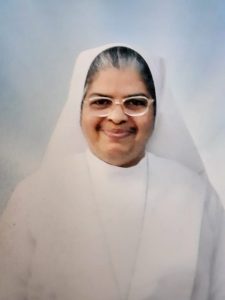 First Profession: at Sacred Heart Convent Bangalore on 24.05.1990
Perpetual Profession: at Palluruthy, Kerala on 25.05.1996
 Sr. Gracy was born on 25 July 1965 at Vimalagiri parish in the diocese of Idukki Kerala Inida. Her beloved parents Mrs. Anna, and (late) Mr. Mathew Niravath inculcated in their seven children- three boys and four girls, great love for their faith and for Christian virtues. No wonder one boy became a missionary priest in Jammu Kashmir and Gracy and her elder sister Ann Mary embraced religious life: the latter a member of the Congregation of The Little Sisters of the Poor.
From her childhood Gracy had great desire to become a missionary. She passed the pre-Degree Course and joined the FMA Institute. She became a postulant on 24th July 1987 at Katpadi and was vested in the religious habit on 24th May 1988. She made her first profession on 24th May 1990 at Sacred Heart Novitiate, Bangalore and her final vows on 25th May 1996 at Palluruthy, Kerala.
After her profession in 1990, she did courses in Tailoring, Needle work, Typing and also passed in B.A and M.A Degree examinations. She rendered service in various Communities as Teacher in academic and technical streams, as Warden, Assistant of children and youth, in charge of parish Catechesis, Oratory and Catering. Her longest service was as Economer in 10 Communities. Twenty eight years of her religious life were spent in 18 houses of the Provinces of Chennai and Bangalore.
By nature, Sr. Gracy was cheerful and jovial. Looking down on memory line of her religious life we see Sr. Gracy spreading grace and cheer through the roles she played in the various communities as teacher, warden, assistant of students, seamstress, in charge of catering department and an Economer. 28 years of her religious life was spent in 18 houses of the two provinces of Chennai and Bangalore.  In 2008 – 2009 she was in FATRI, Trichur doing a Counselling Course, equipping herself for the family apostolate.
No word of complaint about her health ever escaped her lips even though the migraine headache was her faithful companion all through life.
She had always a broad smile on her face, ever ready to listen to the poor and to say a word of encouragement or consolation.  She was always kind and compassionate to all especially to the poor and the marginalized.  Sr. Gracy was not just a person who practiced radical poverty. She was jovial, adventurous, loved the nature above all. She had a strong sense of belonging to the community and to the Institute.  This she proved through her obedience in little and big ways". 
On 22 September 2018, at 11.00 a.m.  from the house of Madonna del Cammino (Auxiium Navajeevana for Young at Risk) Bangalore, our dear Sr. Gracy Mathai Niravathu took her flight to her Heavenly Father`s home. Her demise was sudden and unexpected. She was 53 years old.
Sr. Gracy had been suffering from headache for the past twenty years. She had undergone treatments under Allopathy, Ayurvedic, Homeopathy , Naturopathy etc., but to no avail.  So she accepted it as a God-given cross to carry, while continuing with the treatments.  At the end of May 2018, she was transferred to Auxilium Navajeevana where she was rendering service as Bursar and Assistant to the girl children at risk.
On Sunday 16 September, Sr. Gracy developed fever and medical assistance was given. The fever left and on Monday and Tuesday she took rest. She wanted a quiet surrounding for rest. So she came to Sacred Heart Novitiate at Avalahalli. On Thursday night at 2.00 am. she felt unwell and immediately medical help was sought in a nearby hospital. At 4.00 am, she was taken to St. Martha`s hospital where she had undergone treatment earlier. "She needs dialysis" –said the doctors. As the specialist who was in charge of dialysis was out of station, she was rushed to St. Philomena`s hospital. Immediately she was taken to the IUC and preparations were made for the dialysis. While the dialysis was going on, she had a mild heart attack and she was put on ventilator. The doctors declared that as all her vital organs were failing, there was no hope of recovery.  She went into a coma, and at 11.00 am on Saturday 22nd, she breathed her last. Sr. Gracy's unexpected demise came as a shock for the whole Province. Though suffering from headache, she was carrying on with her normal duties till 15th Saturday. 
Her mortal remains were brought to the Provincial house. Her brothers and sisters and other dear ones, people from her parish, Sisters from our Communities as well as representatives from Chennai and Trichy Provinces some of whom were her Novitiate companions attended the funeral. At 3.00 p.m. on 23rd, Fr. Mathew Thonikuzhiyil the Salesian Provincial of Bangalore Province, concelebrated Holy Mass along with several Salesians from Kristu Jyoti College, other SDB communities, the Parish priest of Sr. Gracy`s native parish and other priests acquainted with her family.
St. Paul states "When he pleaded the Lord to remove the thorn from his flesh Jesus answered" My grace is sufficient for you". Yes, Sr. Gracy you too were told by a charismatic preacher your headache was a blessing and you joyfully accepted this pain without complaining to anyone. We have experienced and witnessed your dedication, commitment to your duties, your caring attitudes towards children and your loving dealings with the outsiders. You are always in our hearts and you have stolen our hearts.  You were always satisfied and accepted the great pain of your constant headache as a gift from the Lord. Thank You Sr. Gracy For Your Graceful and Grace filled Life Lived Among Us. Adieu Till We Meet Again.
Sr. D'SILVA LORENZA, F.M.A . 14.11.1921- 27. 08. 2019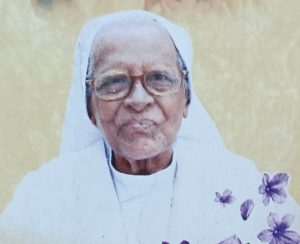 First Profession: at Kotagiri Madras, on 06.01.1949
Perpetual Profession: at Vellore, Madras on 04.01.1952
Sr. Lawrencia, a beautiful soul that has returned to the Father's house in perfect peace, having completed her God given assignment to the best of her ability. Like St. Paul she could say with a daring conviction "I have fought the good fight, I have kept the faith. From now on there is reserved for me the crown of righteousness."
Sr. Lorenza D'Silva, fondly called by all as Sr. Lawrencia was born on 14 November 1921 as the fifth daughter of Mr. Raymond D'Silva and Mrs. Pereira Este at Puducurichy, Trivandrum, Kerala. The family was blessed with 5 girls and a boy called Manuel. He was the first but he lived only for a day in this world. The four daughters were born after him and Lorenza was the youngest. She was baptized two days later on 16 November 1921. Sr. Lorenza's father was a perfect disciplinarian and a man of deep faith. His schooling with the Jesuit fathers had its own specific effect on him which he used it in the formation of his children. He brought them up in discipline and inculcated in them strong faith and a true religious spirit. Lorenza was gifted with a beautiful voice and she loved singing and music. Her interest was in music and singing and not in studies.
At 16 she had a desire to join a convent and offer herself to God. She began to renounce gradually all worldly pleasures. She would sing only holy songs. Noticing her style of life people starting commenting thus: "She is so holy. She will surely join a convent'.  When she heard this remark she was not happy and she went back to her worldly ways of living and gave up the idea of becoming a nun. One day while attending a convention in one of the parishes the preacher Fr. Theoplim asked her during confession "Do you want to go to heaven or hell?" When she responded 'heaven' the priest told her. "Then leave all the worldly pleasures and give yourself to God and live only for Jesus." There was opposition from relatives and friends but her parents and sisters did not stand on her way. When she wanted to join the sodality her father objected. He told her 'when the convent comes to our place you can join". Lawrencia was upset and gave up the idea of joining. "That night", says Lawrencia "I saw Our Lady looking at all my companions and smiling and did not look at me at all.  On the following day I decided to join without getting permission from anyone and gave my name to the sisters." "I was so happy" she says to be in the house of Our Lady. When Mother Merlo asked her do you like to study, she said a big 'NO' and replied 'I want to become a sister".  Let us listen to what she says about herself. "Since my father had taught me English the sisters did not force me to study. I never ever regretted for not having studied. I had only one desire to become holy and I knew to get to heaven there is no need to study. I knew I have only one work to do, to save souls."
Sr. Lorenza joined the convent and became a postulant on 24 May 1946 in Madras. She was clothed in the religious habit on 6 January 1947 at Kotagiri. She made her first profession on 6th January 1949 at Kotagiri and her final vows on 4 January 1955 at Vellore. Soon after her profession in 1949 she was sent to Broadway, Madras as the assistant of the boarders. She carried out various responsibilities in various communities; in charge of Needle Work, catering, seamstress, animator.
After many years of hard work in Tamilnadu she was moved to Nandigama, Andhra, a new place with a new language to learn. She exercised her role as the animator till 1991. Life wasn't easy because of the climatic conditions as well as all the cultural and social differences. Nothing deterred her from living her life to the full and sacrificing herself for the sisters and the people. She was back in Madras in 1991 and for one year she engaged herself in family apostolate at MPT Madras. In 1992 the Lord took her to another State Kerala, Puthiyathura where she continued to exercise her talent as seamstress and in charge of catering department. In 1999 she reached Palluruthy from where she flew to heaven on 27 August 2019.
Sr. Lorenza loved her vocation and had a strong sense of belonging to the Institute and to the community. She had great respect and veneration for the superiors. She carried out all her responsibilities with great precision and order in a very systematic manner and she expected the same from sisters and children. All those who lived with her testify to her simplicity of life, her availability for the mission, her approachability and spontaneity in relating with ease. She had a special love for the priests. Her pleasing and pleasant personality attracted everyone to her as the scented flowers would attract the bees. No one went away from her without a thrill in their heart and a smile on their face, after their encounter with her. She was an excellent cook we could say unanimously and she loved to prepare delicious food for the community. Her cordiality and cheerfulness attracted everyone. All those who lived with her testify to her simplicity of life, her availability for the mission, her approachability and spontaneity in relating with ease. She never spent a moment in idleness always she occupied herself in different works. The past few years she engaged herself in making rosaries. Anyone who visited her would have received more than one rosary each, such was her generosity in distributing rosaries to whomever she could.
Sr. Celine Jacob provincial testified about Sr. Lorenza saying "She was a woman of prayer, her lips moved all the time reciting rosaries or other prayers. She was able to say 17 -18 rosaries a day. A soul fired by the love of our Blessed Mother could not be less."
Our Heavenly Father called our dear Sr. Lorenza D`Silva to her eternal home at 7.30 p.m. on 27 August 2019 from the Hospice of Holy Cross Sisters at Palluruthy.  On leaving us from this earth She really edified us leaving her witnessing life to us : She was a loving and person oriented sister, who could weave relationship with everyone with ease, without much difficulty because she was endowed with a calm, serene, unperturbed personality so unique to herself. Nothing disturbed her and hence the gifts she was able to give to others were not only rosaries and artificial flowers but the gifts of the Holy Spirit – joy, peace, serenity, courage, hope and tranquility.  Dear Sr. Lorenza, You were a woman of prayer, your lips moved all the time reciting rosaries or other prayers. You were able to say 17 -18 rosaries a day. What a feat! A soul fired by the love of our Blessed Mother could not be less.
Sr. JOSEPHINE PERIERA, F.M.A.  ( Missionary in Africa)    Dead: 15. 01. 2021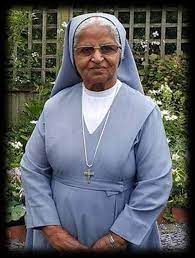 On 15 Jan from the hospital "Imperial" di  Kartum, the Lord called to Himself our dear Sr. Josephine PEREIRA from the Visitatoria "Maria Ausiliatrice" Etiopia – Sudan South Sudan. She was born on 1 Aug 1932 at Puthucurichi, India, in a family rich in faith and love. After her Primary school, she came to Vellore where she came to know the FMA. She passed the exam in Fashion, embroidery and tailoring in a state Institute of Madras. She was admitted to Postulancy on 24 May 1953 and on 24 May 1955 made her Profession at Kotagiri. So, after that she was at Auxilium College for 2 years, studying. In the beginning her health was a problem but she is very grateful to the Superiors for their care and solicitude. She worked as seamstress in many Houses of the Province. The numerous transfers were because the Superiors had trust in Sr. Josephine especially when there were certain difficulties which she knew to overcome and maintain and strengthen communion. When the Institute started Project Africa, Sr. Josephine though 50 years old, responded with enthusiasm and missionary zeal. After a year of preparation at Rome, she went as pioneer at Tonj in S. Sudan, a village far away, isolated, marked with poverty. With immense trust in MHC and great faith, Sr. Josephine committed herself in pastoral activities of the salesian parish. The community had planned for educative activities for children and women but at the start of the War, they went to Wau, 103 km from Tonj, staying with the Sisters of Nazareth, a local Congregation. The Bishop gave them a House and Sr.Josephine began her work as economer, then as superior with the works for promotion of women. From 1993 she was in Kartum, Sudan a reality marked with permanent uncertainties and political, social and religious difficulties. She worked as Economer till 2011, Vicar till 2016 and then responsible for the sector for Promotion of women till the end. She showed great love for Jesus, Mary and Joseph, the Institute, her community and the poor wherever they are. She lived her vocation with joy, fidelity and great trust from Above and openness to learn. Till the last days, the children used to help her to go to the Work room. On 11  Jan, she was not feeling well and was diagnosed with pneumonia. The Sisters assisted her with great care and her prayer to return to the Father's house was near. Thank you dear Sr. Josephine for the witness of your generous life, for having sustained with your faith and tenacity the hope of many S.Sudanese struck by constant violence, injustice and extreme poverty. Continue from heaven to intercede for peace and for the gift of joyous and intrepid vocations like yours.
Sr. ELIZABETH GEORGE F.M.A.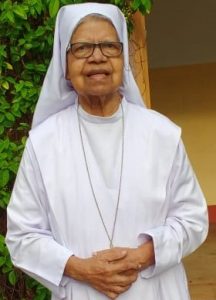 Our Heavenly Father called our dear Sr. George Elizabeth to her eternal home at 7.30 pm on 21 February 2022 from community of Auxilium Centre, Kottiyam, Kollam, Kerala. She belonged to the Province of the Sacred Heart of Jesus, Bangalore (INK). She was 90 years old.
Sr. Elizabeth was born on 06 December 1932 at Kadayinikkad, Kottayam district, in the diocese of Changanassery. Her younger sister Sr. Mary George belongs to the same Province of Bangalore. Her parents George Thomas and Elizabeth Joseph had twelve children, nine boys, two of whom were priests and one Bishop and three girls.  The two priests are gone to their reward.  Her father was a Head Master of a school.  Sr. Elizabeth was the fifth in the family. They were very good Christians, imbued with missionary spirit and brought up their children in Christian piety paying great attention to the family prayer in the evening.
Sr. Elizabeth writes in her autobiography: "All my family members are very good and affectionate to each other. I am being the first girl in the family enjoyed more privileges from my father. For example I am lovingly called in the family and neighbourhood as 'Daddy's Darling'.  My priest brothers; Fr. Thomas and Fr. Joseph inspired me to choose religious life. They were very holy and pious. At home all of us had special devotion to Sacred Heart of Jesus and Mother Mary. In my parish I was a member of the Sodality of Our Lady". 
She entered postulancy on 21st November 1952, at St. Francis Xavier's Convent, Madras. She did her novitiate in Kottagiri, Tamil Nadu and made her profession on 24th May 1954.
After her profession she was sent to our Convent School at Arni with the responsibility of boarding. At St. Mary's School Vellore she held the same responsibility.  In the year 1958 she did her Graduate course in Economics at Auxilium College Katpadi.  During 1967 – 1968 she passed Degree in Bachelor of Education at Madras. She rendered valuable services in the Communities of Madras and Bangalore Provinces such as sacristan, linenarian, assistant to the boarders, warden, and teacher, Correspondent, Head Mistress and Animator for 24years.
Sr. Elizabeth George was remarkable of her great love for poor children and practiced Don Bosco's Preventive System with much love and dedication.  She was a tender mother to the boarders, especially to the poorest and the Young at Risk.  At the same time she was very formative in her dealings with them so that she has to her credit a good number of orphans educated and settled in life as devoted wives and mothers.  They used to visit her to express her love and gratitude.
Sr. Elizabeth was warm and affectionate, at the same time combined firmness and tenderness in right proportions with children and with the sisters.  She imbibed the missionary spirit from her three missionary brothers as well as from the missionary sisters who were the members of our communities and worked with enthusiasm and untiring zeal for the evangelization of the young through education.
From 2016 onwards due to health problems her activities were reduced and she spent her days in prayer and rest. In 2018 she was transferred to Auxilium Centre Kottiyam where she continued her life in serenity and prayer.  On 12 February 2022 she had a fall while going to chapel for the Eucharist.  She was taken to Holy Cross Sisters Hospital nearby where she was given best of attention and care. After three days she was brought back to the community.  Her condition remained the same and she passed away at 07.30 pm. on 21 February 2022.  The funeral service will be held on 23 February in the cemetery of the Sisters in the convent campus.  While we say good bye to our dear Sr. Elizabeth we ask her to implore our Blessed Mother to send us many good and holy vocations which is the urgent need of the hour.
Sr. Sr. Crescentia D'Almeida F.M.A. 29. 12. 1948 – 27.11.2022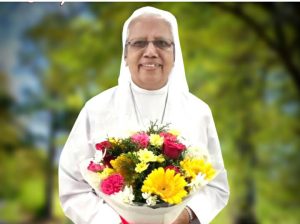 Our Heavenly Father called our dear Sr. Crescentia D'Almeida to her eternal home at 3.45 pm on 27 November 2022 on the way to the hospital. She was stitching and then she complained about a pain on her shoulder to one of the Sisters and went to bed. At 3.40 pm she called Sr. Anna Joseph, a senior Sister, who went to see her. She found her sitting on the floor with her head on the bed. The Sisters immediately rushed her to nearby Vijaya Sree Hospital who advised to take her to a heart specialty hospital. She was then taken to FORTIS MULTISPECIALITY HOSPITAL, Bannerghatta where they did the ECG and said that she had died about half an hour earlier. She passed away due to cardiac arrest, probably between 3.45 and 4.00pm. She was the Animator of the Community of Maria Immacolata (Nirmal Jyoti Technical Institute) Bannerghatta, Bangalore, belonging to the Province of the Sacred Heart of Jesus, Bangalore (INK). She went to her true home heaven, to celebrate her 74th Birthday which falls on 29 December.
Sr. Crescentia D'Almeida was born on 29 December 1948 at Chathiath, in the district of Eranakulam, Kerala. Her parents John D'Almeida and Mary D'Almeida had seven children, 4 boys and 3 girls. She is the second among the siblings and the first girl in the Almeida family. Both her parents were devout Catholics and attended Holy Mass daily in the parish church along with their grandparents. This was an inspiration for her from childhood, as they too were encouraged to accompany the parents. Her niece, Sr. Ritsel Ann D'Almeida is an FMA and a nephew is an OFM Capuchin priest. Her grand uncle and her paternal uncle were also diocesan priests and she had a cousin who is a religious priest of the Oblates of St. Joseph. She did her initial education first in the elementary school where her aunt was the H.M and did her high school and Pre university studies at the Carmelite Sisters. Her Aunt Ms. Josephine D'Silva was a good disciplinarian and she helped her to grow in all the ways with sound moral and Christian values and principles. She used to go for daily Mass with her aunt from the time she was able to understand the importance of the Eucharist.  After some years her parents too settled at Vaduthala, Ernakulam as it was possible to get better educational facilities there, than at their father's ancestral place. The children were happy about this as they were loved very much and cared by their grandparents and aunt. This also helped her to form good convictions and give heed to the call of God to religious life.  
It was during the period of 1956 – 57 that the Salesian fathers started their first foundation in Kerala at Vaduthala barely 1 km. away from their home. The Salesians immediately set to work as true sons of Don Bosco with the motto, 'Give me souls and take away the rest'. Their presence and spiritual animation for the local people had a great influence on her as together with her aunt and brothers she was going for daily Mass. The priests started sodalities for girls and young women and she was enrolled in the sodality of St. Maria Goretti and later a member of the sodality of Little Flower which was meant for girls from 16 to 25 years old. The animation in these sodalities was also a great help for her to lay foundation for her religious vocation. In those days she used to attend the annual clothing and profession ceremony of the Carmelite Sisters who had their Novitiate house close to their house. As her grandmother was regular to the daily Eucharist there she would invite Sr. Crescentia to go with her to attend these ceremonies. It made a great impression on her to see the young girls changing from their lay dress (saree) to the brown habit and she felt a strong desire to imitate them by following their way of life. She liked the way the priests and brothers animated them during Mass and Catechism on Sundays. There was also facility for frequent reception of sacraments which was encouraged by her parents and aunt in particular. Gradually the Salesian priests, specially the late Fr. Selvam Thomas and Fr. Varghese Menacherry, helped her to choose her vocation when she expressed her desire to become a religious. They guided her and also made arrangements to meet some of the Salesian sisters who came for a short visit to the Don Bosco centre. She met Sr. Mary Manjil and Sr. Ruby Korah for the first time which made her think seriously about her vocation once again for she had lost the desire to become a religious, sometime after her Class X. After completing her Pre-degree course she joined the Salesian Congregation.
Sr. Crescentia writes in her auto biography:" My adolescent period was a pleasant one and I really enjoyed the company of my friends and relatives.  At home too we had lots of fun and we used to enjoy going for outings to our relatives during holidays and going for movies since those days we did not have the TV. But all these did not stop me from my desire to give myself totally to Jesus. In fact a few of us together planned our entry into religious life. We were three from the same neighbourhood to join the Salesian congregation but now one of my companions, Sr. Margaret D'Couth is already gone for her eternal reward". She entered the Aspirantate in 1968 at St. Francis Xavier Convent, Broadway, Chennai (Madras). She made her Novitiate at Sacred Heart Convent, Bangalore which is presently Auxilium Welfare Centre. Sr. Crescentia writes in her auto biography "During the novitiate days my devotion to Our Blessed Mother grew and I really felt she was a real Mother to me who was guiding and leading me with her hand.  Once our Provincial Sr. Virginia Marchetti advised me, 'give your hand to Our Lady she will take care of you'. She wrote,"I really believe that Our Blessed Mother is really leading me by her maternal hand.  Jesus in the Blessed Sacrament became more real to me as a person and my love and devotion to Jesus increased more than my earlier days.  I had also great desire to teach young people as I was already teaching Catechism to small children before my entry into religious life".
She made her profession on 5 August 1972, the centenary year of the foundation of our Institute, at Sacred Heart Convent, Bangalore in the presence of her parents and siblings.  They celebrated this event for 2 days: the newly professed went to Kristu Jyothi College, Bangalore (Salesian Theologate) for the public function to celebrate the twin events – Centenary year and the golden Jubilee of the FMA presence in India. All these celebrations made an indelible mark in her mind and she was really grateful to God for this great gift of belonging to a Congregation which was willed by our Blessed Mother and also the Living Monument of Gratitude of Don Bosco to his Heavenly Mother, the Powerful Mary Help of Christians.           
Her intensive Juniorate was at Sacred Heart Home, Katpadi .She made her final vows on the 5th August 1979 at Auxilium College, Katpadi.  After obtaining her academic qualification she served as teacher and Head Mistress in Kodambakkam, Kingsford, Secunderabad and Palluruthy. She proudly says that she began her mission as Cook in ACK. She pioneered the mission Centres at Bannerghatta and Secunderabad, enduring the hardships of the initial stages of the apostolate. Sr. Crescentia's services as  Province Secretary to Sr. Cecilia, for a 6 year term, Secretary to the General Visiting Councillor- Sr. Wilma D'Souza and in the Formation Sector at Generelate for 4 Years, Novice Mistress for 3 years, Provincial of INK Bangalore for 6 years and  Animator in various Communities are commendable. She had 4 unforgettable months at the mother House in Mornese during her sabbatical year after completing her mandate as provincial.  The 50 fruitful years of service in the Salesian garden in Chennai and Bangalore Province speak volumes of her fidelity and commitment to the Lord.
Sturdy and secure she has run her race, fought the good fight and now she stands on the victory stand singing God's praises for eternity, inviting us to follow the path she trod. If a Salesian dies while on duty, it will be the glory of the congregation, said Don Bosco. Sr. Crescentia was on duty till the end. Everything happened within 40 minutes or so. She had no time for any communication nor did others have any chance to communicate with her. She hardly remained in bed, nor did she stay in the hospital. Her call was too soon.
She is distinguished for her great love for and strong sense of belonging to the community, to the Province and to the Congregation and to the Church. She kept abreast with the news of the Church and the Institute and readily shared the same with others. As the condolences were pouring in, from India and abroad, any one could collect that she was a "wonderful Sister" 'delicate and gentle' in her behaviour, endearing and enduring, patient and generous, simple and austere. She had a prodigious memory and was regular in sending greetings for the Birth days, Jubilees and other important days.  She was ready with the dates and significant events of the Institute and province and reminded others about it. Her organizational capacity was noteworthy. She was very orderly, systematic and methodical in fulfilling her responsibilities. She was always available to extend her helping hand to whoever approached her. Gifted with pleasant ways and friendly manner she had many friends in the Provinces, and even at institute level.
As we wish goodbye to our beloved Sr. Crescentia, we entrust her to the mercy of Loving Father and the maternal embrace of Mary Help of Christians whom she loved dearly.  We are sure that you are enjoying the beatific vision of the Lord, intercede for your dear ones, for our Province, many holy vocations of your caliber.  
Sr. Annie Kottaram F.M.A. 14 .01. 1938 – 17.01 2023 
At the dawn of 17th January 2023 the Lord called our dear Sr. Annie Kottaram to His heavenly Kingdom to crown her with everlasting life from the community of Sacred Heart Convent, belonging to the Province of the Sacred Heart of Jesus, Bangalore (INK). Sr. Annie was born on 14 January 1938 in Palai, in Kuruvanal parish to Mr. Luke Mathew and Mrs. Aleykutty Kottaram who were fervent Catholics. She was the eldest of 15 children: among the 8 brothers 6 became priests and the eldest brother, late Bishop Mathew Anikuzhikattil was the Bishop of Idukki who died during the Covid in 2021.  Among the sisters 4 became religious 2 FMM, and the youngest sister in the congregation of Sacred Heart. She had a strong bond with her siblings. Her uncle Fr. Emmanuel Kottaram a missionary who was in Poonamallai seminary with the Salesian fathers was an inspiration for her to become a religious. After her 10th she joined as a Contact Period Candidate at Mary Immaculate Convent, Tirupattur. She did her Aspirancy and Postulancy at Broadway F.X convent, Chennai. She remembered and cherished the memories of her Assistants- Sr. Josefa and Maria Dolores for their motherly care and loving kindness when she suffered with typhoid during her Aspirancy. She had her Novitiate in Sacred Heart Home, Katpadi, under the guidance of   Mother Verginia Marchetti as Novice Mistress and Sr. Camilla Tagliabue and Sr. Piera Olivieri as Assistants. On 5th August 1960 she made her First Profession.
She enjoyed her novitiate period which helped her to grow in the desire to be a missionary. "5th August 1960 was a great day for me when I made my First Profession.  I was very happy to belong to Jesus and to live only for His love, to be a missionary and to save souls," she wrote in her autobiography. Soon after profession, in September 1960 she went to Shillong, Assam to do Nursing with Sr. Anna Thekkekandam, returned to Chennai after three and a half years of General Nursing. Her mission to look after the sick in the dispensary began in Pallikonda, North Arcot District in Tamil Nadu, where she was with Sr. Maria Angelieri one of the pioneers and superior Sr. Magdalene Maretti, another missionary. Being with 325 boys in the orphanage, helped her to learn Salesian assistance and love for the poor children.  Weekly visit to the villages with dear Sr. Maria Zonta distributing medicines to the sick people and Sunday oratory gave her real experience of Salesian life with the poor children of the village.
 Most of her life she followed the Lord in His healing mission. She took care of numerous poor people in the villages of North Arcot- Tamil Nadu, and Kerala and even in the present Province of Bangalore. She was Animator in Wellington, Pallikonda and Puthiyathura. She gave vent to her missionary enthusiasm while visiting the families especially in North Arcot and distributing medicines. 100s of poor people bear witness to her healing touch. Her commitment as a Nurse proved while caring, cleaning and dressing the wounds of Lepers in Pallikonda, Polur and Arni. Many orphans remember her motherly care and concern as she was in charge of them. She took pride in taking care of the priests wherever she was. The poor young girls and women enjoyed her maternal love as she was in charge of the Needle Work. She had carried out different responsibilities such as in charge of dispensary, village visits and assistant and sacristan. She was Animator, Economer, Vicar, parish apostolate. The Tea Garden on top of the Hill in "Don Bosco" Wellington, Nirgiris, Tamil Nadu, is the fruit of her hard work and speaks of her pioneering spirit. She also endured the hardships and privations of Maradiyur Mission in Bangalore Province at its beginning.
From 2018 Sr. Annie was in the Provincial House rendering her Services with fidelity and commitment whatever her health permitted. In November 2022 she complained about back pain which made her feel ill at ease while sitting and getting up. She was taken to St. Philomena's for a check-up where they discovered some nerve jam between the vertebrae and doctors suggested an operation but still didn't want to take the risk due to her advanced age. A second opinion was advised and accordingly a PET scan was done which confirmed that cancer is spread to many parts also to vital organs. After the radiation she was brought to the convent and she felt better. She found difficult to take in anything even if she herself asked for it. Sr. Superior and the nurse Sr. Elizabeth were always paying more attention to her needs. Her brothers and dear ones visited her during her illness which gave her comfort and courage. She began to feel restless hence on 11th January Fr. Bosco SDB; Rector of Kristu Jyoti College was called who gave her Anointing of the Sick and Holy Viaticum. On 14th the community together with her 2 priest brothers who had come to see her that evening celebrated her 85th birthday bringing her to the dining hall in the wheel chair. With much difficulty she cut the cake as the Sisters of the Community and the Retreatants greeted her with a song. She requested to take her back to the room. On 17th she got up at 1.30am for her needs, and went to rest. She continued calling out her mother and groaning slowly. The Lord took her to Himself around 4.00 am. Soon she was surrounded by the Sisters who are in their Annual Retreat praying for the eternal peace of her soul.
We express our heart-felt condolences to the members of Sr. Annie's family who mourn her departure. May she be the intercessor for them from heaven where she enjoys eternal peace after her earthly sojourn! As we entrust her soul to the merciful Father, we offer our suffrages in gratitude to her life of 85 years and 63 as faithful, consecrated FMA. May she intercede for holy vocations to the Institute especially to our Province!
Dear Sr. Annie, on 14th January you celebrated your 85th birthday on this earth. You began your heavenly birthday on 17th together with your dear ones in paradise. May your soul rest in peace! Adieu Sr. Annie till we meet again in the Salesian garden in heaven!