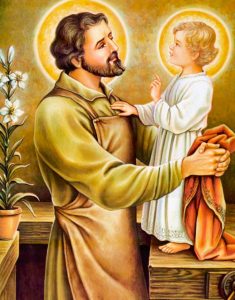 Salesian devotion to St. Joseph originated with St. Francis de Sales, who made St. Joseph the patron of the monasteries. Francis de Sales even gave a spiritual conference on "The Virtues of St. Joseph,"St. Francis wrote that valor, constancy, and strength are virtues which existed in St. Joesph. Below is a summary of how St. Francis de Sales sees these virtues fleshed out in St. Joseph's life.
St. Francis de Sales compares St. Joseph to a palm tree, for he was always very valiant, constant, and persevering.
St. Joseph was constant. When, seeing our Lady with child and not knowing how that could be, (it must have caused him great distress!) St. Joseph did not complain, he was not unkind, nor less gracious towards his spouse, he did not mistreat her, but remained as gentle and as respectful to her as he had ever been.
St. Joseph demonstrated valor and strength. It takes a strong man to be humble, and humility is seen throughout the whole course of St. Joseph's life. By his demeanor and humble acceptance of God's (confusing) plan, St. Joseph was able to conquer the two great enemies of man, the devil and the world!
With regard to perseverance, we must first recognize what St. Joseph was up against. Oh! How greatly was St. Joseph tried by God, and even by people on his life's journey. The Angel commands Joseph to set out quickly, and to take Our Lady and the child Jesus into Egypt; Joseph sets out at once without saying a word. He does not inquire, "Where shall I go? What road shall I take? How shall we find food? Who will receive us?" He sets out immediately. In fact, he probably carried his carpenter's tools on his back, so he could still provide for his family. he Angel had not even told him how long he was to remain there! He could not establish himself in any permanent home, not knowing when the Angel might command him to return. St. Joseph remained there in a foreign country, sure that God, who had commanded him to go, would again command him when he had to return, and St. Joseph was always ready to obey.
Our Constitutions remind us that, "in the lives of the Saints, God shows Himself to us and speaks through them."(#45) St. Joseph is known as "the Just Man." To be just is nothing else but to be perfectly united to the will of God, and to be conformed to it in all events, prosperous or adverse. It is this attachment to God's will that Don Bosco wanted each Salesian Sister to embody.